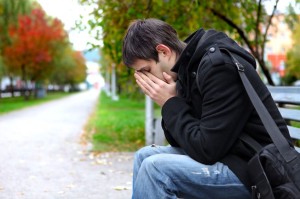 Are you, or is someone you love, one of the many Americans afflicted with anxiety? The experts are saying that more people than ever self-identify as having experienced issues with anxiety, depression, and other mental health issues. Yet, more people than ever before are also saying they want to avoid taking traditional, prescription-based medications to treat their anxiety issues — primarily because they want to avoid potential side effects. And they're right to worry!
While prescription anti-anxiety and antidepressant medications are commonly prescribed and can help some patients, doctors and pharmacists both concede that there are risks and side effects to consider. Of those that seek traditional forms of treatment with prescription medications, most patients find that they will have to try at least a few medications before finding one that works for them. And in the meantime, they'll experience the significant drawbacks in the process of trying out which chemicals work, or are simply tolerated, by their body.
Additionally, some people find that commonly prescribed powerful anti-anxiety medications – such as Xanax, Niravam, Klonopin, Ativan, and Valium – are addictive and require increased doses to continue to work as desired. These anti-anxiety drugs fall within a class called benzodiazepines, and while they are powerful they are pose a powerful risk to anyone at risk for addiction and substance abuse issues. They also shouldn't be taken for longer than a month, to minimize risk, yet many people with anxiety need a longer-term solution. And there's one more complication to consider. If the person experiencing anxiety is a teen, these medications may alter brain development. There's no magic treatment for anxiety. But here is a list of natural solutions to try before taking on the risks of chemical medications.
Cognitive Behavioral Therapy. This form of therapy has been found to be especially effective, because it involves discussing the issues and developing healthy ways to challenge and cope with negative thought patterns, with a goal to stoping unwanted anxious thoughts and finding better strategies to move forward. Making improvements to your lifestyle, including exercise and a better diet. It's worth exploring whether you're getting enough good quality nutrition, enough sunlight and adequate exercise, and whether you've addressed any hidden health issues. A healthy body helps to support a healthy mind. Exercise has also been found to be as effective as medication, for some patients
Getting enough sleep. This one deserves its own category, if only because it's so important. Impaired sleep can lead to disturbed hormone and blood sugar levels. It can leave you feeling sad, angry, or just unstable. Many people think they are getting by on little sleep, but don't realize the damage it's doing. Try prioritizing quality sleep, and see if it makes a difference. (You might be surprised.)
CBD oil. It's worth looking into safe, effective and natural CBD oil as a supplement to your attempts to build a healthier lifestyle. And that starts with getting inflammation under control. You might not associate mental health issues with inflammation, but it turns out that's exactly the underlying issue. In fact, there's a whole field of research dedicated to studying how inflammation messes with our brains and subsequently may cause anxiety disorders. It's believed that people who suffer from conditions like anxiety may have higher levels of q protein complex, while those with lower levels have lower rates of anxiety. That's why CBD is such a powerful alternative to pharmaceuticals. CBD oil calms anxiety naturally without the unpleasant side effects often associated with prescription drugs. You should know that not all CBD oils are created equally. Our CBD Oil is proudly made by the same family-owned company that harvests the hemp from the farm. They control the entire process from planting, growing, harvesting, extracting and manufacturing the final product. Not many products can make that claim. Most are purchasing cheap hemp plants from Asia and other undesirable toxic locations, performing the extraction, then frequently using contract manufacturing to make the final product. In that model, no one really owns the finished product quality. We feel very good recommending our organic CBD Oil that was grown on a certified-organic Colorado farm, then manufactured by the same family-owned business to a final product. Learn more about what CBD oil can do, here.
Changing your circumstances. Do you have legitimate reasons for anxiety and depression? Don't overlook making positive changes to difficult circumstances as a solution to mental health issues. As a culture, we have a tendency to label normal negative emotions, such as anger and grieving, as "bad" or "wrong." If you or a loved one has a good reason to worry or feel sad, consider honoring that emotion and finding solutions other than medications.
Improving relationships. Many times normal loneliness, or isolation, can masquerade as depression or cause anxiety. It can't hurt to build a support network of people that can help to buffer the impacts of daily life, and share your emotions with. Address underlying tensions with friends and family, resolve negative patterns in relating to others, and build healthy new friendships for a new lease on life.
Finally, we recommend that you review all of your options before making a final decision to treat anxiety and depression. Only you will know what is best for your body and life.